Lake Tahoe needs your help!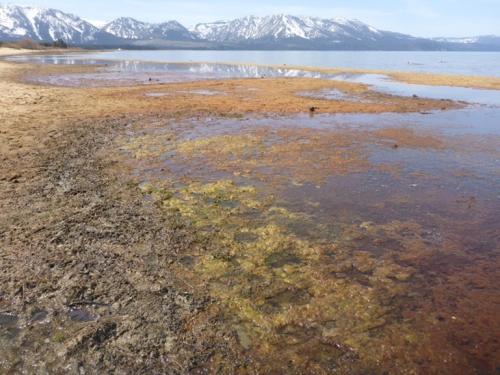 Beginning in 2017, the TERC nearshore algae-monitoring program has been examining the entire shoreline of Lake Tahoe in a novel and powerful way. TERC flies an instrumented helicopter and a drone many times each year to locate the spatial extent of algal blooms and the location of specific hotspots. After each flight, TERC staff and volunteers visit specific locations to take photos and samples to establish the "ground truth" of what was seen from the air. Compared to the traditional method of monitoring, where divers would sample a fixed set of individual locations, valuable new information is being acquired. Whereas the previous data showed that the amount of algae was not changing over the long-term, now we are learning that the areas impacted does change radically, and may be increasing due to the combined effects of warming water temperatures and changing water levels.
Nearshore algae blooms are a growing ecological threat to the lake – they seriously degrade water quality, make large areas of beach unpleasant with mats of decomposing algae, and for particular types of algae, can pose toxicity issues. They also occur where the greatest numbers of people, residents, and visitors, directly interact with the lake. To date they have been most prevalent in South Lake Tahoe and Tahoe City.   For example, a large and toxic bloom occurred in fall 2021 near the mouth of the Upper Truckee River in South Lake Tahoe, and a much larger bloom of attached algae occurred along six miles of shoreline at Tahoe City in spring 2022.
By actively monitoring the spatial extent, type and intensity of nearshore algal blooms, we believe we can better understand the underlying causes of the blooms, and develop appropriate mitigation measures. The project also serves as a warning system, to alert both the public and government agencies to these unattractive and potentially dangerous situations, and guide clean-up crews to areas where they are most needed.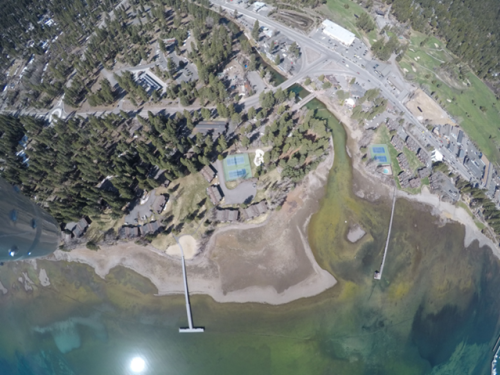 The aerial monitoring approach was initially developed through funding from State agencies, but for the last three years it has received minimal support. COVID disruptions also interrupted this critical project at the worst possible time – just as some of the largest algal and bacterial blooms are occurring in the lake.  Facing these challenges, we are hoping to raise enough private funding so that the program can not only be maintained but expanded to include research into the best cleanup and mitigation methods.  Please help!
Get involved by either donating to this invaluable project using the link below or by using your phone to submit "ground-truthing" images into TERC's Citizen Science Tahoe web app (https://citizensciencetahoe.app/), no downloads necessary, simply take a photo and include any additional comments to be directly sent to TERC.