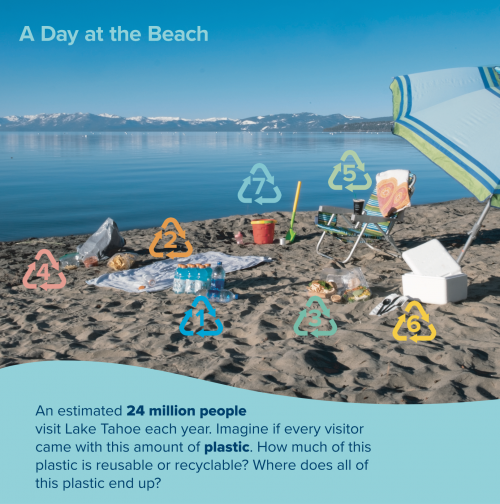 This project is a collaborative effort from TERC's researchers and the TERC education and outreach team. Microplastics are not a specific kind of plastic, but are defined as any type of plastic fragment that is less than 5 mm in length. Each year over 300 million metric tons of plastic are produced across the globe. Plastics enter the natural environment from a variety of sources including cosmetics, clothing, and industrial processes. They easily break down into smaller and smaller fragments by UV light and physical abrasion from wind and waves, but never disappear. Research has shown microplastics are entering the food chain, leaching chemicals, and showing up in soils and drinking water. There has been extensive microplastics research conducted in marine research, however not a lot of information is available on its impacts on a freshwater ecosystems. TERC is working in collaboration with the Desert Research Institute, Clean Up the Lake, the League to Save Lake Tahoe, Raley's, Sierra Watershed Education Partnerships, and Tahoe Water Suppliers Association, to lead the research and education efforts at Lake Tahoe in this emerging field. For more information contact Heather Segale or Katie Senft.
Research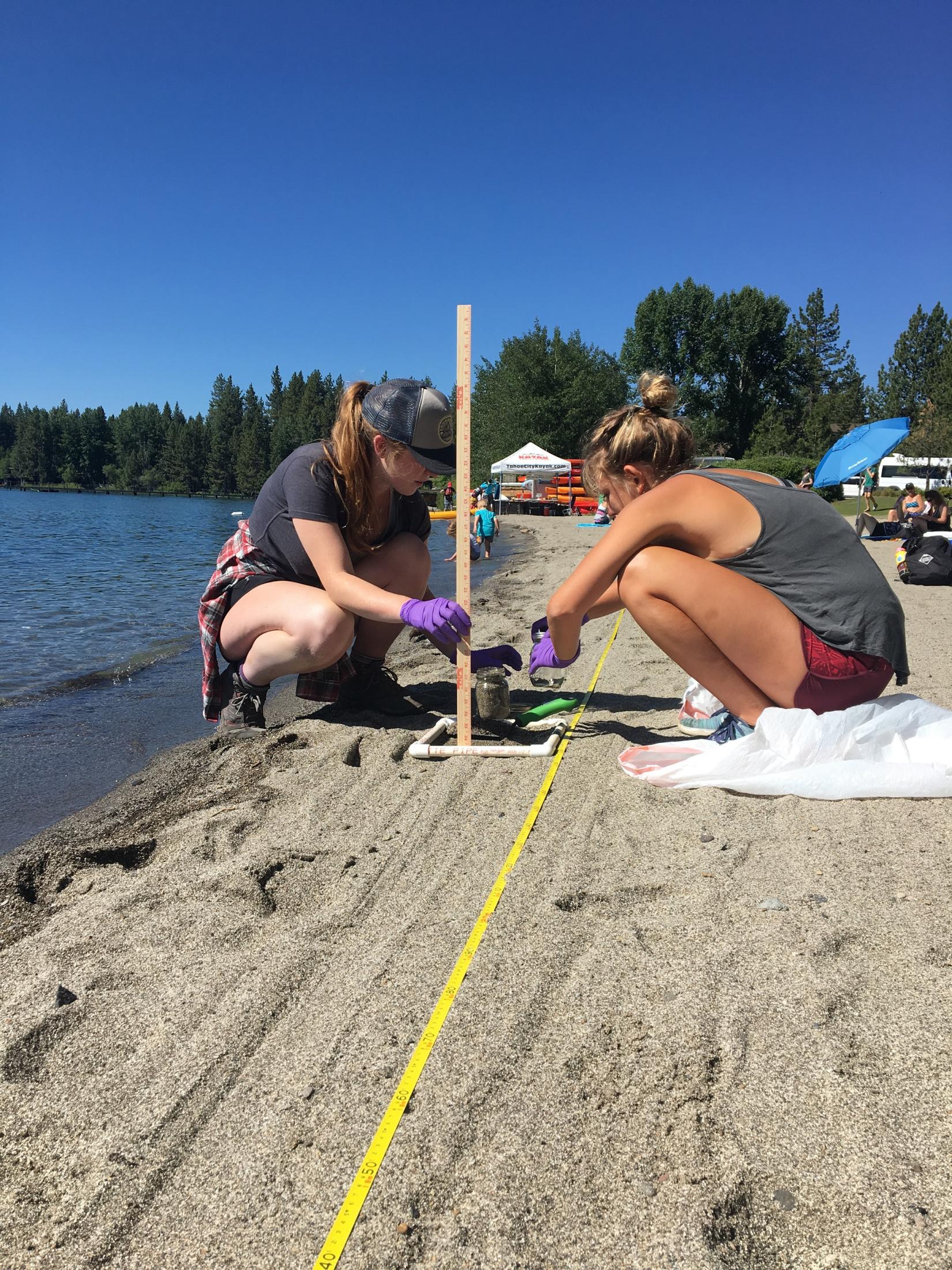 Scientists from the UC Davis Tahoe Environmental Research Center (TERC) and Desert Research Institute (DRI) are collaborating to study the complete picture of the threat they pose to the health of Lake Tahoe. Both teams are studying microplastics at Lake Tahoe, but they are looking at different aspects of the problem. While TERC is researching the fate of deposited microplastics to determine where they end up in the lake, DRI is studying the inputs -- inflowing streams, accumulation on snow, stormdrains, and even dryer vents.
In summer 2018 and 2019, field researcher Katie Senft led a pilot project through a summer internship program with TERC and found microplastics in many of the samples of beach sand collected. Building on that pilot project with funding from the Nevada Division of Environmental Protection (NDEP) and the U.S. Environmental Protection Agency (EPA), Senft's team continues to investigate the fate of microplastics in Lake Tahoe.
Regular trawls at various depths throughout the lake are performed, as well as the collection of deep-water sediment samples to capture heavier plastics as they settle. Researchers will also sample municipal water treatment facilities and Kokanee salmon and Asian clam tissues to assess the impacts on filter-feeding biota. Sampling protocols will build on previous studies to measure microplastics in the waters at every depth of the lake and other areas of the surrounding watershed. Samples aimed to confirm microscopic particles will be subject to Raman Microspectroscopy by Dr. Jenessa Gjeltema, associate professor in zoological medicine at UC Davis. 
Outreach
The TERC education team is continuing to work on the campaign to reduce reliance on single-use plastics in the Tahoe basin. This multifaceted project is funded by Nevada Division of Environmental Protection (NDEP) and includes an exhibit explaining the science of microplastics, direct classroom programming, development of an outreach campaign as part of Take Care Tahoe (takecaretahoe.org), and a partnership to sell reusable water bottles at the local Raley's grocery store.
Exhibit
In order to communicate TERC's important microplastics research to the public, the education team is hard at work creating an exhibit to be displayed at the rescheduled Earth Day celebration and "Below the Blue: Lake Tahoe's Litter Crisis" Art Exhibit at the Boatworks Mall and ultimately at the Tahoe Science Center.
The exhibit features a large five-panel wall display and three tables of hands-on activities aimed to engage visitors in both the science of plastics as well as the solutions to the current global plastic crisis. The panels across the wall tell the story of "A Day at the Beach," with a large photo of a Lake Tahoe scene laden with everyday, single-use plastics: water bottles and straws, zip-top plastic bags, a Styrofoam cooler, plastic utensils, and more. The exhibit then follows those plastics as they break apart into tiny pieces and shows how they impact the food web and the ecosystem. The activity tables allow visitors to test their knowledge of the plastic types #1–#7 and learn that the chasing arrow symbol does not necessarily mean that this type of plastic is recyclable. There is also an activity which gives guests the opportunity to practice some of the same methods used by scientists studying microplastics. The exhibit wraps up with a call to action: it is not enough to change our habits of buying and disposing of single-use plastics, we must also stop the production of the non-essential, single-use plastics in the first place. 
TERC's science team takes a multidisciplinary approach. Only by looking at the watershed as a whole—with its trees, animals, roadways, and people—can we truly understand what's happening to the lake. The plastic problem is similar. We cannot understand the ecological harms without exploring the human industries and big corporations that created the plastic problem in the first place.
This exhibit will highlight the ways in which TERC is a leader in the realms of scientific research as well as in education and outreach.
Education programs
Together with the Tahoe Water Suppliers Association (TWSA) and Sierra Watershed Education Partnership (SWEP), the UC Davis TERC education team has developed curricula to teach Tahoe students about the plastic problem facing Lake Tahoe.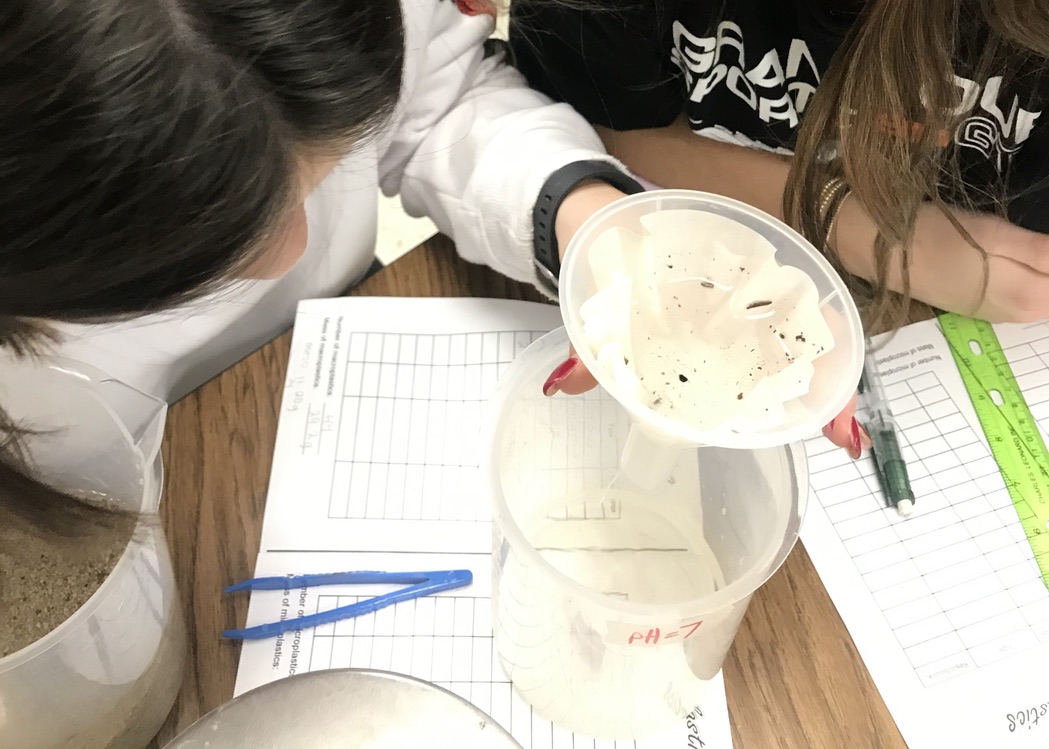 Early in the year, TERC began meeting with Incline High School's Roots and Shoots Club and Advanced Placement Environmental Science class to implement programs that reduce usage of single-use plastic. The education team developed a series of informative and hands-on classroom activities to get the high school students engaged in the local environmental problem of plastic litter.
In the first session, students sorted their own school cafeteria's recycling and discovered that only 5% of what was deposited could actually be recycled. Students then participated in a discussion about what this problem looks like from a local to global scale and potential solutions that could be implemented as individuals and as a community.
In the second session, students were provided with a 1-meter quadrant of beach sand collected from Hidden Beach in Incline Village. Students then used the lab methodology used by TERC and other scientists to analyze the sand for microplastics. Students learned how plastics break apart into smaller and smaller pieces, but never decompose or biodegrade in the environment.
Reusable Water Bottles
Raley's grocery store in Incline Village has partnered with TERC in order to print reusable metal water bottles that feature "Drink Tahoe Tap ®" and plastic-free messaging. Raley's launched this campaign in July 2020 to encourage customers to make the more sustainable choice of going reusable in the single-use plastic water bottle aisle. Due to the success of this initial project, Raley's expanding the campaign to six other stores in Truckee, CA and Reno, NV with the intention the continued expansion to an additional 80 stores in Spring 2021. 
The components of the marketing campaign were designed to build on the highly visible and effective Take Care Tahoe campaign. By using eye-catching bright colors and witty phrases like "Break Up With Plastic", "Water in Plastic Bottles is Trucked Up," and "Fill Anywhere, Take Everywhere," the water bottles will not only serve as a sustainable way to fill up on water, but will also encourage others to rethink their plastic use as well. 
In conjunction with the sale of reusable water bottles, TERC also conducted a survey on single-use water bottle usage in the Tahoe area by residents and visitors. If you haven't taken it already, the survey is available at https://www.tinyurl.com/TahoeWaterBottleSurvey.
The sale of these reusable water bottles will be coupled with a push to increase accessibility to drinking water filling stations around the basin. In partnership with Sierra Nevada University and Incline High School, TERC plans to double the number of refill stations on the mobile "Tap App," which points folks toward locations where they can refill their water bottles. Working with the Take Care Tahoe team, TERC also intends to roll out a badge system that businesses can use to display their commitment to sustainability and to attract more customers.
Community Forum
In order to better engage with the local community, TERC obtained a viewing link for the Story of Plastic for people to watch for free. This movie was featured in the 2019 Tahoe Film Fest and provided an excellent foundation for building conversation. The idea was to use this movie to spark questions specific to the plastic problems in our area, then provide an open forum where community members could engage with twelve local experts. These experts/panelists discussed their current actions addressing the plastic problem, spanning from education to research to art, and their collective knowledge and expertise was then made available to the participating community. We hope that sharing some of our work with the community will spark ideas and conversation about how we can do better moving forward. This presentation and forum was recorded and is available through the UC Davis YouTube Channel.