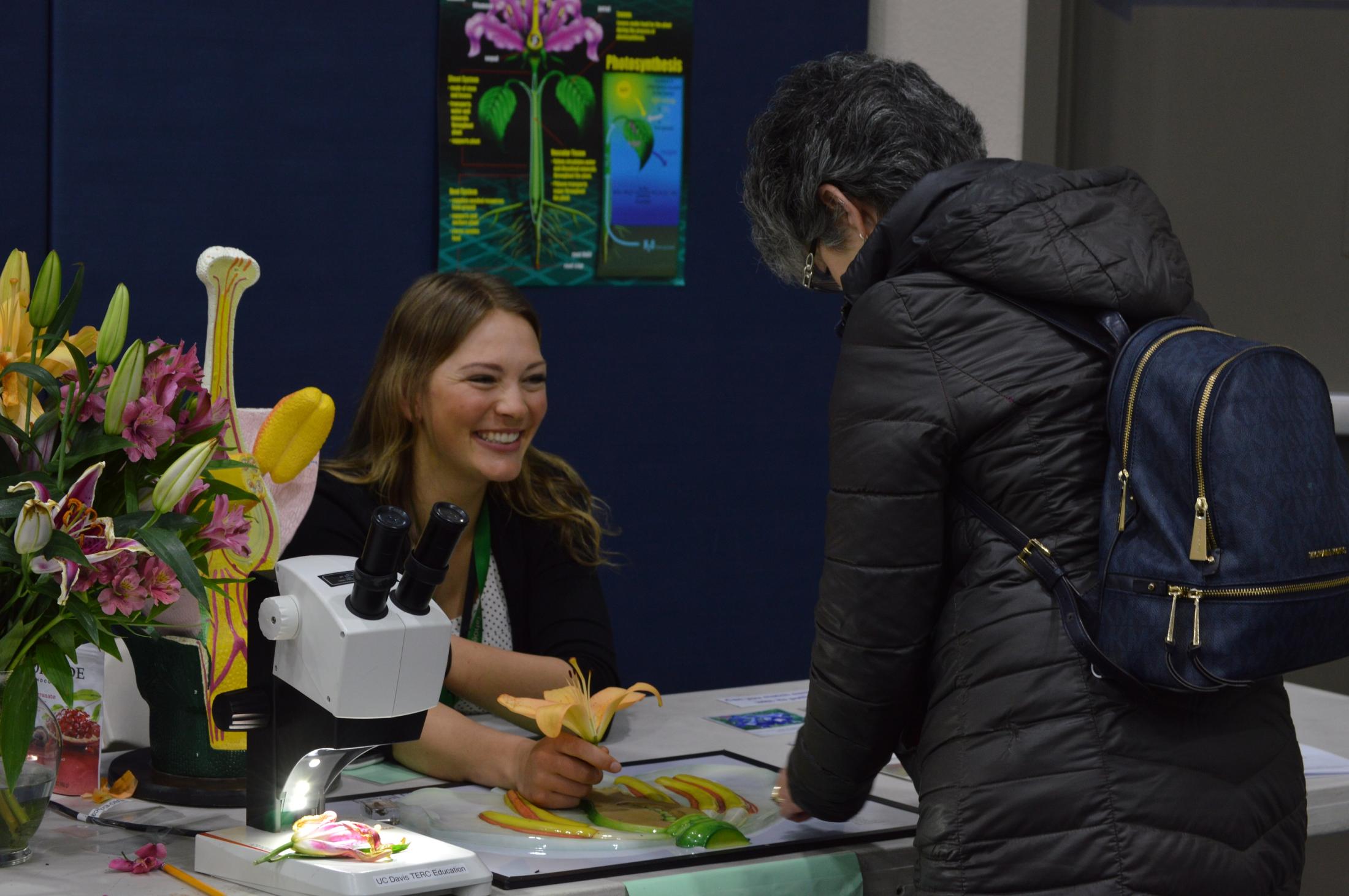 2023 Science Expo: Life and Health Science 
The 2023 North Lake Tahoe Science Expo will be held at Incline High School from May 15-19 and in South Lake Tahoe at the South Lake Tahoe High School from April 17-21. Both Expos will be in partnership with local schools to increase science communication and literacy with local high school students and STEM education for local elementary students. The theme for the 2023 Science Expo is Life and Health Sciences that will following the themes: Inheritance and Adaptation, Organisms and Ecosystems, and Health and Nutrition.
We are looking for volunteers at both Science Expos on the North and South shores of Lake Tahoe. As a volunteer, you do not need any prior science experience. All materials and supplies will be provided. You can attend an advance training session or simply come a half-hour before the start of your shift to prepare to facilitate your science activity station.
Click here to volunteer for the North Lake Tahoe Science Expo. (Volunteer flyer available)
More volunteer information for the South Lake Tahoe Science Expo is coming soon.
The annual Science Expo event is designed to increase student excitement and interest in science through interactive, hands-on activities, games and demonstrations. Every Science Expo includes hands-on science activities for upper elementary school students from the greater Lake Tahoe and Truckee Region.
Student groups come for a two-hour session and interact with 30-40 hands-on science activities within the theme of Life and Health Science (2023), Physical Science (2024), and Earth and Space Science (2025). Themes are on a three-year rotation to ensure that local 3rd–5th grade students who come every year will experience different activities each year. The cost is $5 per student.
UC Davis staff, AmeriCorps members, and volunteers share experiments, activities, and science demonstrations with the students in the community. Other regional partners including local Rotary clubs, Incline Education Fund, and Washoe County School District. Also offer activities, experiments, or demonstrations. Coffee is provided for volunteers by the Raley's grocery store in Incline Village.
Students from local school districts will attend during scheduled school visits.
The Tahoe Center for Environmental Sciences facility is located at 291 Country Club Drive in Incline Village (between Tahoe Boulevard/SR 28 and Lakeshore) and provides the perfect setting including use of teaching laboratories, a 3-D visualization theater, and other educational tools.
Comments from visiting students and teachers:
"The students left with so many discoveries, insights, and questions which has left them on further explorations. Your team is amazing!" (Jessica, Creekside Charter)
"We're so lucky to have this great resource in our community!" (Patricia Mills, Tahoe Lake Elementary)
"All excellent! I want to compliment the quality of the stations and presenters!" (Kathee Hansen, Tahoe Lake Elementary)
"I had so much fun being a scientist!" (Julie Otis, Kings Beach Elementary)
"We debriefed almost a week later and many [students] retained information they learned and/or were able to recall significant facts when reviewing their passports." (Susan Earnest, Bijou Community School)
"I enjoyed learning about our brains, how they work, and how the cells all play a different part in your body." (Kings Beach Elementary 3rd grader)
"My favorite part was the lungs, reptiles, and germs." (Creekside Charter 3rd grader)
"My favorite part was the brain and getting to see and feel them. You Rock. I loved it a lot!" (Creekside Charter 3rd grader)
"I learned a lot about science, so much that my brain is sore. Just kidding, but really, if my brain could not grow it would be full." (Summer)
"I learned in ice that when matter changes from a solid directly into a gas it is called sublimation."
"I enjoyed the experience and the magic of science. It was really awesome!" (Jessica)
"I really felt like a scientist and a nerd at the same time... I had a lot of fun." (Damen)
"That night I dreamed about being a scientist and being the engineer of the fastest car. That reminds me... I'm a scientist can't you see, the cosmos is my lab for discovery, growing plants, checking out the stars, and I'm the engineer of the fastest cars... Yeah!" (Mckenna)
"I can't wait until next year. Thanks again for making last Wednesday so much fun."
"I really appreciate you letting us come. I enjoyed all of the fun science. I learned how science is fun and exciting. I hope I can come back next year." (Mckayla)
2021 Virtual Science Expo: Earth and Space Science 
Thank you to all the classes who joined us for the 2021 Virtual Science Expo this year. It was a great success! If you missed it, we have a recorded session available on our YouTube Channel (https://youtu.be/KuX3eMMN0X8).
Teacher Comments from the 2021 Virtual Science Expo:
"This was amazing. The students were all very engaged." - 3rd grade teacher, North Star Online School
"The surveys throughout the expo were a nice interactive piece as well as the facilitators showing the corresponding passport pages as they were referring to them. This was definitely a well-planned and thoughtful presentation from the UC Davis TERC. Thank you for sharing such a strong example of quality science education for our students! =)" - 5th grade teacher, North Star Online
"Fantastic distance activity however your space is so incredible we miss participating in person. Thank you so much." - 5th grade teacher, Zephyr Cove Elementary
"I was very impressed with the virtual Science Expo!  Thank you!" - 3rd grade teacher, Sierra House Elementary
"The layout and graphics of the Passport were great.  You did a great job presenting. Good sound quality and visuals. […] Looking forward to coming in person next year!" - 3rd grade teacher, Tahoe Lake Elementary
Teacher Materials (2022 - Earth & Space Science) 
Teacher Materials (2021 - Best of Science Expo)
Teacher Materials (2019 - Physical Science)
Teacher Materials (2018 - Health & Life Science)