Dive deep into the lake without getting wet at Lake Tahoe's

only

science center.
Dive into Lake Tahoe without getting wet! Explore the interactive exhibits, learn about the lake ecosystem, and why it's changing, and find out how you can keep Tahoe blue.
When you visit the Tahoe Science Center, you learn the latest findings from the world-class UC Davis Tahoe Environmental Research Center (TERC), a global leader in research, education, and public outreach on Lakes.
Hours and Reserved Tour Times
The UC Davis Tahoe Science Center is open to the public with advance timed tickets from Tuesday through Friday at 1pm, 2:30pm, and 4pm. We look forward to welcoming visitors back in accordance with COVID-19 campus protocols prioritizing health and safety. Please check out our reopening protocols as they are subject to change for more information. Masks are currently required for all visitors to the science center at this time. 
Tahoe Science Center Virtual Tour Series videos are available on the UC Davis YouTube Channel (https://www.youtube.com/c/ucdavistahoe). There are currently seven virtual tour videos as part of this playlist along with many more specialty videos available in our channel. Subscribe to the UC Davis Tahoe channel to receive updates as new videos are being added.
Location: 
291 Country Club Dr.
Incline Village, NV 89451
Located on the first floor of the Tahoe Center for Environmental Sciences building (directions) on the campus of Sierra Nevada College in Incline Village, Nevada. Reserve your tour time today!
Parking:
There are five marked Visitor Parking spaces located in the Sierra Nevada College campus parking lot off Country Club Drive nearest the Tahoe Center for Environmental Science (TCES) building. If no visitor parking spaces are available, obtain a dated Visitor Parking Permit from the volunteer docent on duty and park in a UC Davis parking space.
Cost:
$5 per person
There's something for everyone...
For families looking for fun and learning, there are interactive exhibits on the Tahoe Basin's important ecological challenges and an award winning 3D movie, "Lake Tahoe In Depth." (Also available in Spanish)
For school groups, there is kid-friendly science curriculum covering topics such as geology, ecology,

 

and more.
For those interested in green homes and workplaces, there are working examples of sustainable design, construction, and landscaping in our LEED Platinum building.
For lifelong learners there is an evening lecture series, check out the

 

events calendar

 

for a list of upcoming events.
Tours include the following Exhibits:
By Appointment or Special Request: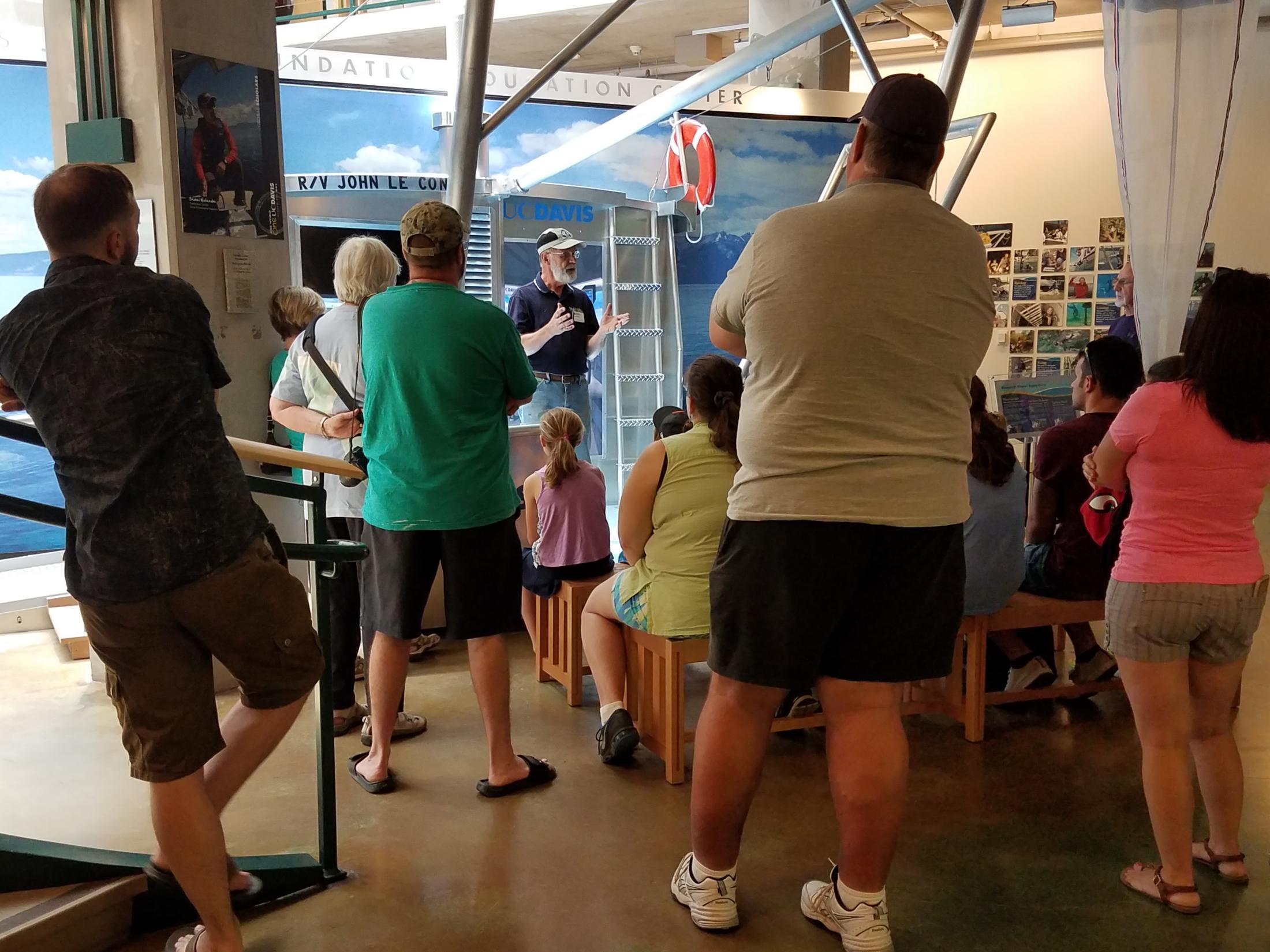 Virtual Tahoe Science Center
Click here to start your free online virtual tour with your family today!