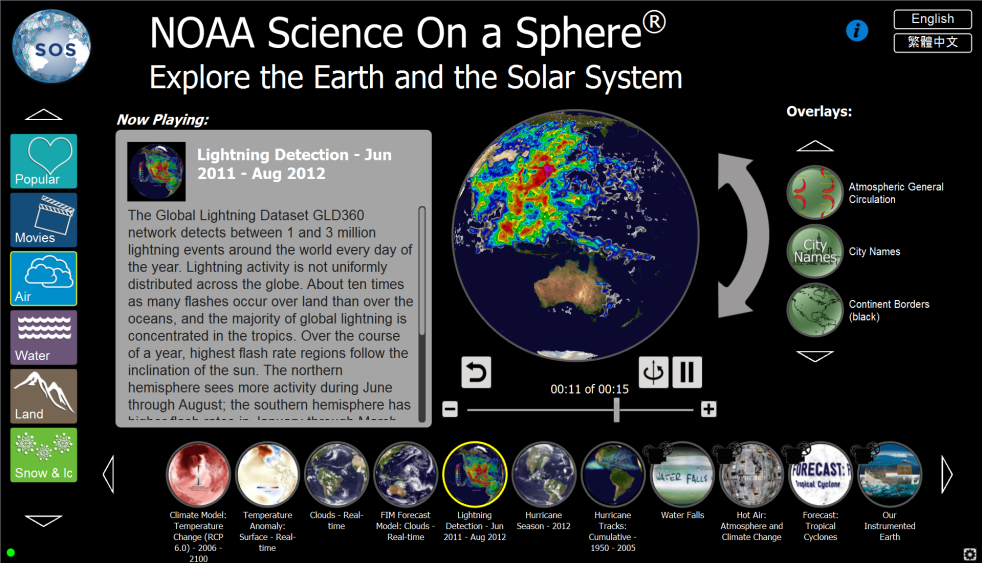 The NOAA Science on a Sphere Explorer system is available upon request in the Tahoe Science Center 3D Theater. 
Science on a Sphere Explorer display animated images of earthquakes, atmospheric storms, and climate change data to explain environmental processes in a way that is simultaneously intuitive and captivating. TERC will show these videos, data sets, and various interactive content as part of our thematic field trips.
TERC has already begun using the Science on a Sphere Explorer content in our school field trips and students were engaged with the visualizations and data presentation of earthquakes and changing Earth temperatures. We are excited to develop and expand our use of this innovative resource for teaching about Earth science.
Funding for this exhibit was provided by the Gellert Family Foundation, Parasol Tahoe Community Foundation, Tahoe Truckee Community Foundation, and Teichert Foundation.
Advanced reservations are required for docent-led tours of the Tahoe Science Center and booked by visiting https://www.activitytickets.com/activity/2021-uc-davis-tahoe-science-center-tours/509.